Re: [dev] Screenshot or copy of previous suckless.org website design
From: Thayer Williams <thayerw_AT_gmail.com>
Date: Thu, 5 Nov 2009 17:16:02 -0800
On Nov 05, 2009 at 05:08 PM, Samuel Baldwin <recursive.forest_AT_gmail.com> wrote:
> 2009/11/5 Thayer Williams <thayerw_AT_gmail.com>:
> > This may sound like a strange request, but does anybody have a local copy or
> > full-sized screenshot of the previous suckless.org website design?  The Way
> > Back Machine doesn't have any records of the most recent incarnations.
>
> Which one? I have a copy of the green one if you want, I actually had
> my website look like a clone of it earlier and I'm literally about to
> revert it today. (Right now it's a ripoff of Tuomo Valkonen's site,
> hah.) I've actually also stolen your (you being Thayer) icon as well.

I was referring to the design in place before the current one...attached is a
thumbnail which is the only record of it I can find in my own files.

No worries about the icon, feel free to do whatever ya like with it =]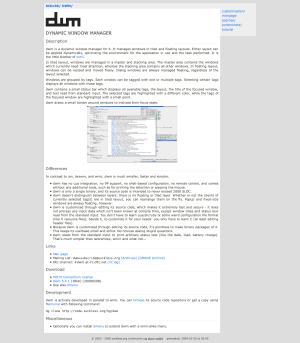 Received on Fri Nov 06 2009 - 01:16:02 UTC
This archive was generated by hypermail 2.2.0 : Fri Nov 06 2009 - 01:24:01 UTC