Re: [dev] [st] Colored glyphs
From: Menche <menche_mt_AT_yahoo.com>
Date: Sat, 30 Sep 2017 22:20:29 -0700
On Sat, 30 Sep 2017 23:52:50 +0200
Janne Heß <jannehess_AT_gmail.com> wrote:
> Hello everyone,
>
> I was wondering if glyphs with an own color (namely emojis) are
> supported in st. With a default-ish config.h, they are not rendered at
> all (just black).
> Is there anything I can set (maybe in the font option) to enable this
> or does this require patching x.c?
>
> Regards
> Janne
>
With my configuration (I've mostly just changed the font and color
lines in config.h, no other files) all glyphs are displayed monochrome,
including ones that are typically colored, such as emojis. It does have
trouble with multi-width glyphs when several are next to each other or
when the cursor is moved over them.
.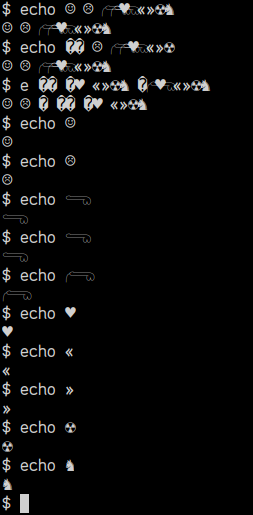 (image/png attachment: st.png)
Received on Sun Oct 01 2017 - 07:20:29 CEST
This archive was generated by hypermail 2.3.0 : Sun Oct 01 2017 - 07:24:17 CEST