[dev] [st] A problem with dracula patch
From: Ömer Sinan Ağacan <omeragacan_AT_gmail.com>
Date: Tue, 17 Apr 2018 11:32:06 +0300
Hi,
When running neovim inside st with dracula patch the cursor disappears when I
select a vim color theme with light background. See attachment for a
demonstration. On top is st with default colors. The other one is with dracula
patch. The cursor is not visible in the version with dracula.
I'm wondering if anyone already fixed this, otherwise I'll try to debug this
myself.
Ömer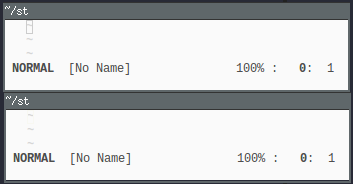 (image/png attachment: dracula_cursor_color.png)
Received on Tue Apr 17 2018 - 10:32:06 CEST
This archive was generated by hypermail 2.3.0 : Tue Apr 17 2018 - 10:36:21 CEST