[wmii] Dockapp problem
From: phyrster <phyrster_AT_gmail.com>
Date: Sun, 21 May 2006 11:48:48 +0800
Hi list,

Just switched to wmii and I notice a few Dockapps I am running are
rendered into windows with title bar. They are supposed to dock on one side
of the screen with title bar hidden.

How to configure configure those Dockapps so that they really dock?

The attachment is a titled Docks which I don't want.


-- 
regards
phyrster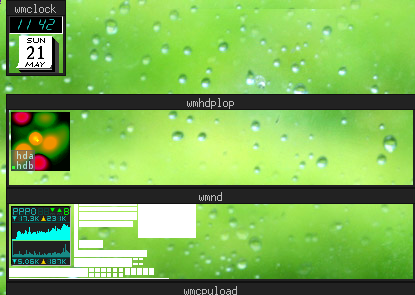 Received on Sun May 21 2006 - 05:49:17 UTC
This archive was generated by hypermail 2.2.0 : Sun Jul 13 2008 - 16:05:50 UTC